The Da Vinci Golden Horn Bridge
The Da Vinci Golden Horn Bridge
In 1502, famed artist Leonardo Da Vinci drew up some illustrations depicting a unique and stylish bridge for a public works construction project spearheaded by Sultan Bayezid II. The Golden Horn Bridge or "Da Vinci Bridge" was to be a passageway extending over the Golden Horn inlet in Istanbul, Turkey. However, it would be a staggering 500 years before his design could take on its intended form in the world, thanks to an artisan from Norway.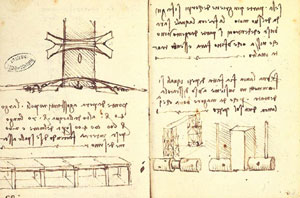 The idea was a first of its kind at the time, since no one had previously conceived such a lengthy single span bridge. At 720 feet (220 metres), the Golden Horn Bridge would have been recognized as being the longest bridge in the world during that period. But unfortunately, the Sultan only saw Leonardo's concept as nothing more than an inconceivable pipe dream.
Lost and Discovered in the Archives
As an offer of his services, Da Vinci detailed his Golden Horn bridge plans in a written message sent directly to Sultan Bayezid II. After the letter arrived in Istanbul, it lost existence, gathering centuries of dust within the imperial archive walls. At last in 1952, an incredible 450 years later, it came to be known that it was penned by Da Vinci.
Leonardo had sketched 2 separate drawings of his bridge, one of them capturing the structure from an aerial perspective. Along with the images, he had written down these specifics in his proposal to the Sultan: "The bridge, which stretches from Pera to Constantinople, is 40 braccia (1 meter = 1.64 braccia) wide, 70 braccia high above the water, and 600 braccia long, in other words, 400 braccia over the water and 200 over land, and thus has its own abutments."
Intention with an Ounce of Hesitation
As soon as Da Vinci was identified as the creator of such a lavish bridge design, one intended to become a functional masterpiece as well as the largest, most striking overpass worldwide at the time, the obvious question came next: Could it be built?
Initially, it was looked upon as an improbable and potentially dangerous task to complete. One reason was that the arched supports were extremely narrow where they joined with the walkway (although they did widen as they neared the surface of the earth). There was a general consensus that bringing the Golden Horn Bridge to fruition might open the door to a host of structural, temperamental, and safety concerns.
An Old Vision Finally Comes to Life
With the passing of time and a little persuasion, it was Vebjörn Sand, a Norwegian artist, who recognized Da Vinci's intelligent effort and presented it to the world. In 1996, the painter had come across the bridge drawing and a tiny-scale model version of the Golden Horn Bridge at an exhibit showcasing Leonardo's architectural and technological body of work. Sand became so captivated by the bridge's layout that he eventually persuaded the Norwegian Highway Department to commission the building of a bridge honoring Da Vinci's design.
In 2001, the structure, scaled down to a quarter of its original size at a more humble 330 feet in length, was erected as an elevated pedestrian crosswalk along the E18 highway in Aas Township, about 20 miles outside of Oslo. The actual conversion of the initial design into a three-dimensional form was executed by architect Knut Selberg. The small-scale Golden Horn Bridge features 3 pine wood arches supporting an also wooden pathway with handrails made from a combination of teak and stainless steel.